If you're looking for a successful fashion event, read on! This article will provide tips on how to make your event stand out from the rest. You will also get tips on attracting guests and creating a buzz around your event. So whether you're planning a launch party or just want to throw a themed get-together, keep reading for useful tips.
Invite Influencers and Press
Any fashion event, whether a runway show, pop-up shop, or simply a new clothing line launch, is only as good as the people in attendance make it. Of course, you need to invite your target market and guests that fit your brand, but if you want to make a splash, you need to get influencers and the press involved. Here's how to do it right.
Start by creating a list of the top fashion bloggers, social media influencers, and editors that you'd like to invite. Once you have your list, reach out to them directly with a personalized invitation. If you have a smaller budget, consider sending digital invitations or providing complimentary tickets in exchange for social media coverage.
No matter who you invite, follow up with each one closer to the event date. Send them information about what to expect and any relevant hashtags they can use. Most importantly, ensure they know where and when the event will occur.
Besides influencers and press, you also need to market your event right. Marketing starts well before the event date. You must send email invites, promote your event on social media, etc. If you don't want to do all of that yourself, you can get help from a marketing agency. Look for a popular event marketing agency to help you develop and implement a marketing strategy. This will help create a buzz around your event to attract more attendees and make your event successful.
Create a Stylish Venue
When it comes to hosting a fashion event, creating a stylish venue is key to ensuring its success. Fortunately, you can take a few simple steps to transform any space into a chic setting. First, pay attention to the lighting. Opt for soft, ambient lighting that will give guests a flattering glow. Next, focus on the furniture.
Choose classic pieces that will add a touch of elegance to the room. Finally, don't forget the details. Add some fresh flowers or charming table decorations to make the space shine.
Serve Delicious Drinks and Food
When planning a fashion event, it's important to consider not only the clothes that will be showcased but also the food and drinks that will be served. After all, guests will need sustenance to make it through a long event. And what's more, delicious food and drink can help to create a festive atmosphere that will get guests in the mood to shop.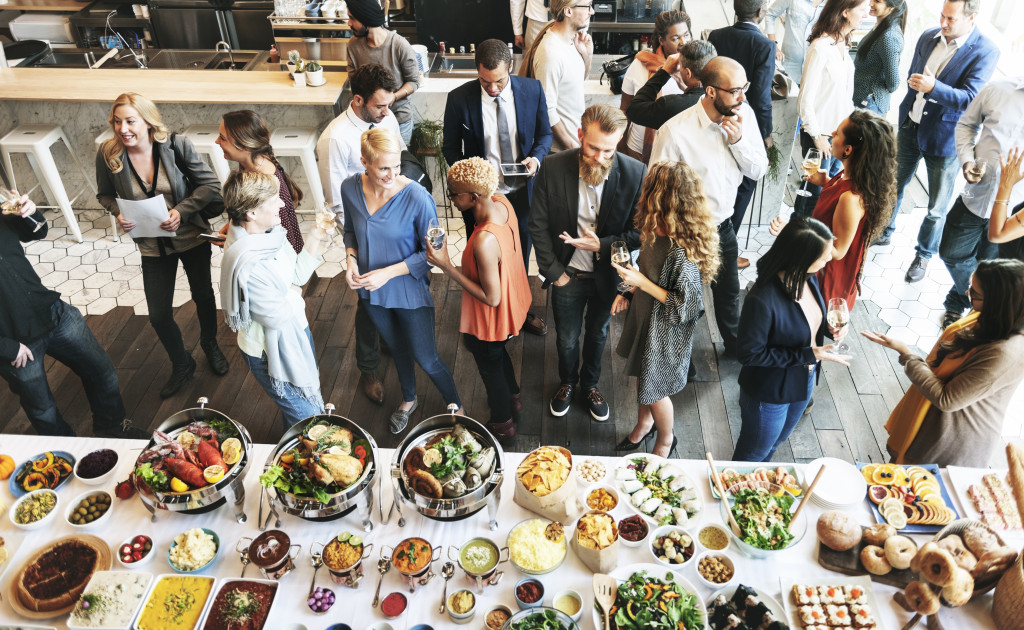 So, what type of food and drink should you serve at a fashion event? This will depend on the theme of the event and the guest list. But in general, it's a good idea to offer a mix of healthy and indulgent options.
For example, you might want to serve light hors d'oeuvres and finger sandwiches alongside more decadent sweets. As for beverages, champagne is always a winner at fashion events. But if you're looking for something non-alcoholic, try serving creative mocktails or fresh juice cocktails.
Provide Entertainment
Providing entertainment at your fashion event is a great way to liven things up and keep guests engaged. Music is always a popular choice, but you can also consider hiring a photo booth, a caricaturist, or even setting up some fun games.
Of course, the type of entertainment you choose will depend on the theme and tone of your event. Musical entertainment might be the way to go if you're going for a more laid-back vibe. But if you want to make things more interactive and fun, then hiring a photo booth or setting up some games may be better suited.
No matter what you choose, just make sure that the entertainment you provide aligns with your event's overall theme and tone.
Give Goodie Bags
A goodie bag is a small gift for guests at events such as parties, weddings, and corporate functions. Goodie bags often contain samples of products or promotional items, as well as coupons or vouchers for discounts on future purchases.
While they are not required, goodie bags can be a nice touch that makes your event more memorable and enjoyable for guests. When planning a fashion event, there are a few things to remember when selecting gifts for your goodie bags. First, consider the overall theme of your event.
For example, if you are hosting a girly tea party, you might want to include feminine items such as scented candles or pretty stationery. Second, think about the interests of your guests. If most of your guests are into fashion and beauty, it makes sense to include items related to those topics. Finally, don't forget to add your personal touch! A handwritten note or a small piece of jewelry is always appreciated.
Following these simple tips can easily make your fashion event a success. By serving delicious food and drink, providing entertainment, and giving goodie bags, you will ensure that your guests have a great time and that your event is a success. So don't forget to consider these tips when planning your next fashion event!