You said yes to the engagement ring and the dress, but what comes next? During this time, it is a challenge to gather all your loved ones to celebrate your special day with you. The limitations brought by the coronavirus pandemic are still present, and it would be hard for children, seniors, and people with other conditions to be present at your wedding. As everyone's health is a priority, intimate digital weddings have become a norm.
Digital weddings are new, but they can work for you. It costs way cheaper than a traditional garden wedding setup, and you can invite as many guests as you want. You won't need to spend a lot on grand wedding setups and catering. Although it would not be as lively as other weddings, these will work for couples who want to get married at this time. If you and your partner are looking into getting married during this season, here's what you should keep in mind before you tie the knot.
Make sure your wedding is legal.
First off, your marriage has to be legal. You need to obtain marriage licenses to hold your union, or else it could be void even when you're done with all the celebrations. As digital weddings are not yet legal in all U.S. states, make sure to check if your state has legalized such. Some states have allowed the application and obtaining marriage licenses online, like California and New York.
After you have secured your marriage license, find an officiant who can help you with an online ceremony. Your pastor or priest could be available for such events. You can also ask your local government for a list of officiants who can help officiate your wedding. There are also people offering their services on online yellow pages.
Choose an appropriate location.
As many venues have closed or paused operations because of the pandemic, most couples opt for smaller venues. Others even marry from the comfort of their own homes. Think of how you want your wedding to happen. Others want it glamorous, while others would rather have it homey. Just make sure you have enough room to accommodate your onsite witnesses and your online event setup. If possible, opt for an outdoor location so you can keep your attendees safe.
If your hands are full, look for a wedding planner.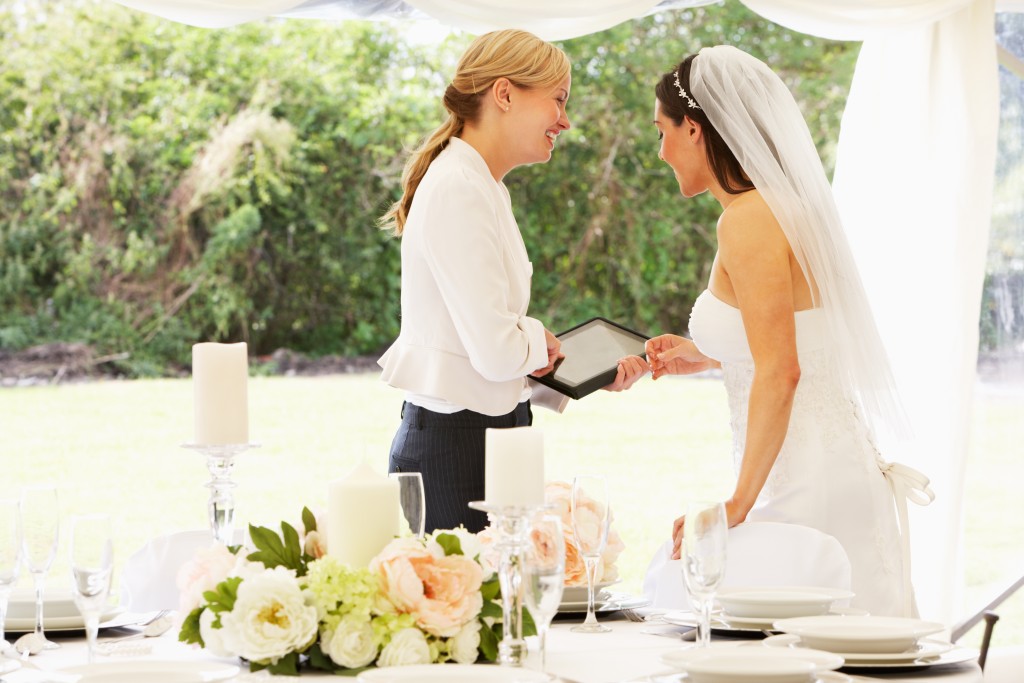 The bride has to look and feel her best, even during a digital wedding. It's a busy day for you and your soon-to-be husband, and it will be hard if it's just the two of you doing all the work on your special day. While virtual weddings are not as busy as traditional weddings, there could still be a need for you to have on-the-day coordinators and wedding planners.
These people will help you fix your (smaller) venue. They can also help contact vendors like your catering, hair and makeup artists, and photographers. They will also help assist your onsite witnesses. If you are on a budget and cannot afford a wedding planner or coordinator, it would still be best to ask for help from a family member or other witnesses.
Prepare your live stream.
The internet is a powerful resource, as it can keep people closer no matter the distance. Prepare a streaming service for your guests who could not make it. Many people use a paid Zoom account to share their intimate wedding online by just giving them a link. While Zoom offers free service, it could be limited to only 40 minutes a session. If you do not have your own, you can borrow from a friend for the event itself. An alternative would be to stream your wedding through a closed Facebook group or YouTube Live.
As for the camera, you can use a phone or an iPad to capture the wedding. If you want to take it up a notch, you can opt for a three-camera setup that enables attendees to see different views (i.e., for close-ups and wide shots). Your cameras need a working microphone as well so your guests can hear your vows during the ceremony.
If you cannot handle this yourself, look for a tech support team that professionally handles online events like these. As many are not familiar with online events, hiring tech support for the wedding can help with camera setups, and streaming would lift a big weight off your shoulders. Some teams are professionally hired to do this, with DJs, hosts, and chat presiders.
Send out your invitations.
Of course, you want to celebrate your wedding day with the people you love. Even if the others cannot come onsite, send them a link to your online wedding room. It would also be useful to ask for their RSVP so you can prepare souvenirs for your online guests.
You deserve a special day, even in the middle of a global pandemic. Digital weddings need thorough preparation too, just like traditional ones. By preparing these things beforehand, you and your partner can enjoy a smooth digital wedding.