Ceiling beams are a crucial structural party of any house. Luckily, they needn't be ugly even though they are often hidden out of sight. With the right touch, they can transform your ceiling into an interior decor masterpiece.
The right touch of Barnwood ceiling beams decor can transform an ordinary room. They will make your space feel bigger by adding texture and depth. Here are some exciting ways to use ceiling beams to your advantage.  
Add Some Cladding or Color Behind the Ceiling Beams
The first step to making your ceiling beams looking great is adding a styled backdrop. Since these beams are purely structural, very few builders think of how they'll look.  
Chances are your beams sit directly below the roofing medium or boards. If this is the case, you'll need a way to style up the surface. Some things you can do include:  
Adding some particle board or drywall backdrop

Painting the existing backdrop

Cleaning up the space between the beams to give it a neat look
  A clean backdrop makes the ceiling joists pop. They'll look like an integral part of your room's design, even if you are yet to touch them.  
Sand, Clean, and Paint Them
You can go a step further by cleaning up and sanding the beams to give them a neat look. The extent of sanding and painting will depend on what you're shooting for. Some bit of cleaning and staining is great if you want to retain the wood's patina. Heavy sanding a colored finish will give you a neat modern look.  
Alternatively, if you are dealing with metal beams, you can simply prime and paint them. Your choice of color will determine whether you get an industrial look or a subdued homely feel.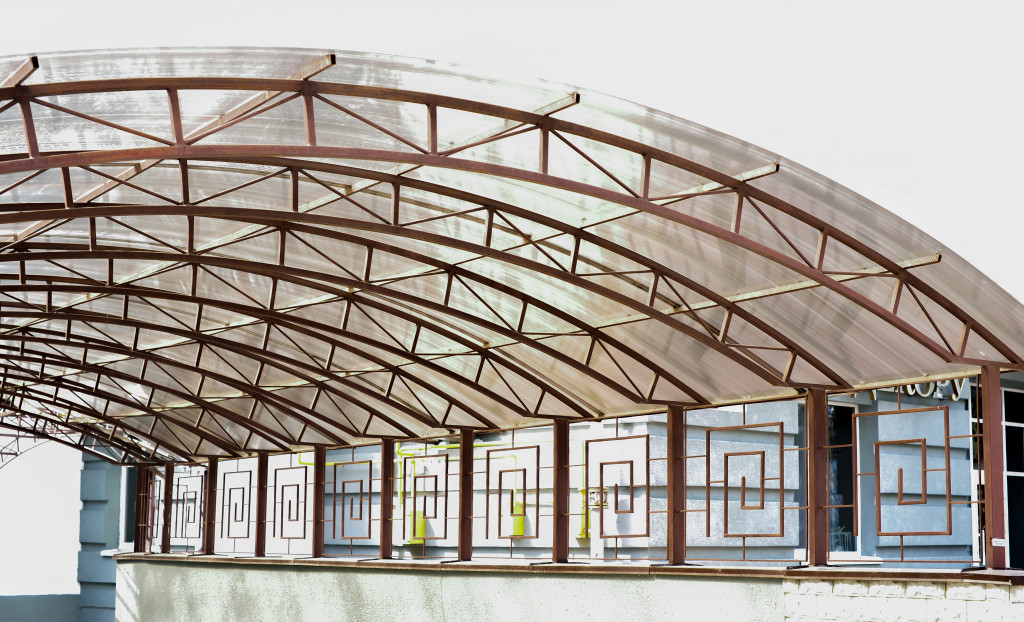 Go for the Chunky and Cabin Feel
If you are lucky enough to have exposed chunky timber beams, you can go the cabin way. Hefty beams are imposing and awe-inspiring.   You don't even have to clean them up to make them attractive. Just stain them lightly for protection. Be sure not to cover their patina and quirks. This is what makes them pretty.  
Match the Room's Decor to the Exposed Beams
Once you're invested in making your ceiling joists parts of the interior decor, you have to design the rest of the room with them in mind. Match your furniture, floors, and fittings to the ceiling beams to get a continuous and effortless look. Don't go for a modern look if your ceiling beams are rough and exposed. The disconnect will make your home look confused. You don't want this.  
Everything, including the walls, your paintings, and lighting fixtures play a role in making your ceiling beams fit into your decor.  
Give Them Some Heft With Plywood
Sometimes, builders hide ceiling joists behind a ceiling board because they are flimsy and ugly. Well, this is understandable. Ceiling beams have to be strong, not good-looking. Some thin and uneven pieces of timber will do as good of a job as perfectly hewn Barnwood ceiling beams.  
However, thick timber beams look better. If you're looking for this look, you can add some false heft to your thin timber or iron beams using plywood.   Find a way to create braces that form perfect rectangles of your desired dimensions around your existing beams. Glue or nail the plywood over these braces to create the illusion of a thick and hefty timber beam. If you get the plywood grain right, you can stain it to simulate different timber patinas.  
Add Some Fake Ones for Symmetry and Style
Finally, you can bolster up your existing ceiling beams by adding some fake ones. A couple of extra horizontal beams will make an otherwise scanty look fuller and impressive.  
Extra non-structural beams between the original trusses will create a better pattern. The freedom to add fake beams gives you the power to shape your ceiling into something remarkable. Whatever you do, remember to keep their weight in check. Use light softwood whenever possible. Ensure that they're attached to the right joists on the wall. You don't want to add undue stress to your ceiling.
Exposed ceiling beams are pretty. Sometimes, it takes some effort to make them pop – especially if they were originally tucked behind a ceiling board. However, some dedication and creativity are all you need to use to your advantage. Whatever way you go, you'll end up with a unique look and a taller spacious room.