Kid-centric landscaping involves safe plants and engaging play zones, nurturing children's love for outdoor time.
A family pool, carefully planned for safety, becomes a versatile, fun spot offering relaxation and active play.
A DIY approach to pool construction can save costs, while attention to pH maintenance ensures pool longevity.
An outdoor dining space provides a casual setting for family barbecues, offering opportunities for bonding and socializing.
Cozy outdoor movie nights and stargazing sessions create a magical ambiance, enriching family time in your backyard.
In today's fast-paced world, prioritizing quality time with family is more important than ever. One valuable way to accomplish this is by embracing the value of outdoor family time. Families can strengthen their bonds, create lasting memories, and promote overall well-being by spending time together outside.
A family-friendly yard sets the stage for these meaningful moments, providing a safe and enjoyable space for everyone to connect and engage in various activities. A yard serves as a haven where parents and children can escape the distractions of technology and daily routines.
It offers an opportunity to unplug and immerse oneself in nature, fostering a sense of adventure and exploration. Whether playing games, having a picnic, or simply relaxing, the outdoor environment encourages active participation and facilitates open communication.
Furthermore, a family yard promotes physical health and well-being. It encourages children and adults to engage in physical activities like running, sports, or gardening. The yard becomes a living classroom where children can learn about plants, wildlife, and the importance of caring for the environment.  This blog post will explore ways to transform your yard into a family haven and its endless benefits.
Kid-Centric Landscaping
The first step in creating a family-friendly yard is approaching the landscape from a child's perspective. Kid-centric landscaping means planning your yard's layout and considering children's safety and play opportunities. Ensure the following:
Child-Safe Plants and Garden Design
The next step is to design your garden and select safe plants for children. Avoid poisonous plants, thorny shrubs, and sharp edges. Instead, opt for soft-textured foliage, brightly colored flowers, and sweet-scented blooms that attract pollinators like butterflies and bees.
Creating a sensory garden with herbs, fragrant shrubs, and texture-rich plants is a fantastic way to engage kids in gardening activities.
DIY Play Zones for Kids
If you have a backyard with ample space, consider adding a few DIY play zones for kids that'll spark their imagination and encourage playtime. Build a tree house or a play fort, and add some balance beams, hopscotch squares, or monkey bars that are fun and physical.
Gardening with Kids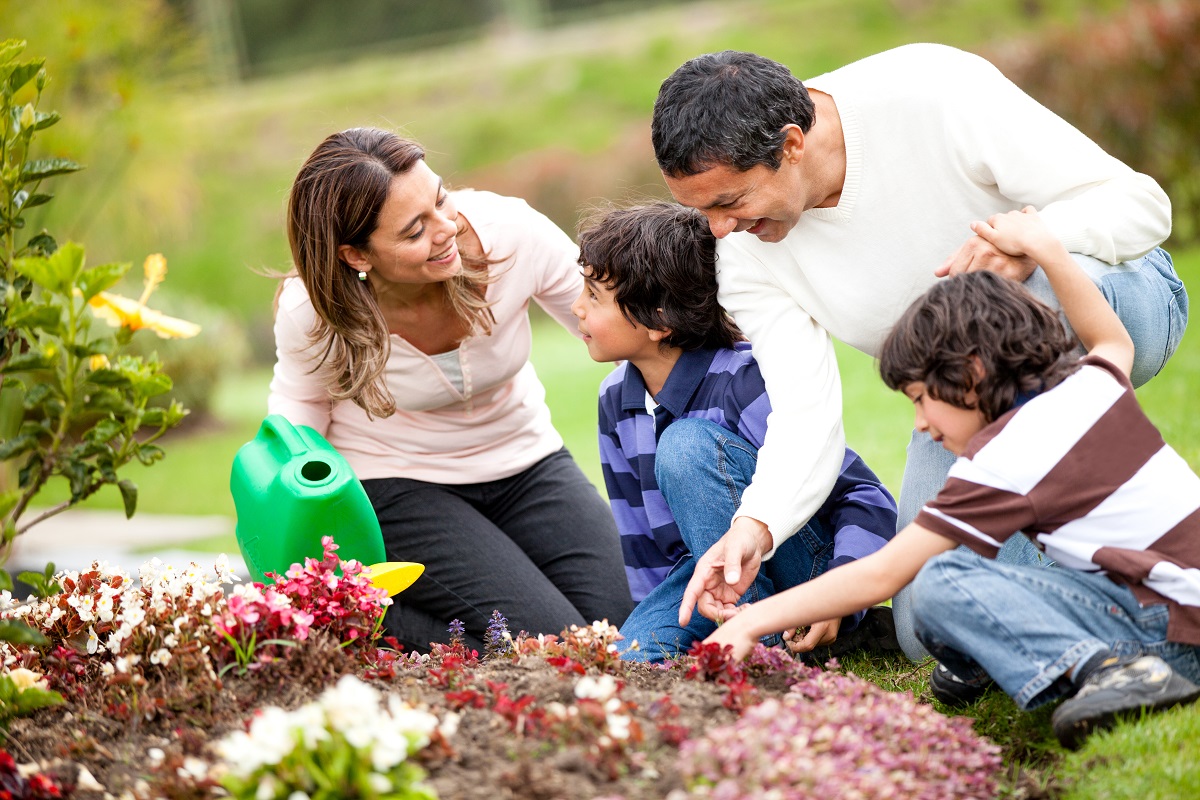 Creating a kid-friendly garden is another excellent way to engage kids in outdoor activities and teach them about gardening. Give them their garden patch to plant and care for with easy-to-grow veggies like cherry tomatoes, carrots, beans, or sunflowers.
Creating a Family Pool
Transform your backyard into a water oasis that the whole family will enjoy. Having a pool will keep you cool in the summer heat and add an aesthetic appeal to your yard. However, before installing a pool, plan it carefully through the following:
Pool Planning and Safety
Before building a family pool, consider the placement, size, and type of pool that will suit your family's needs. Remember the safety features like fencing, pool covers, and pool alarms to minimize accidents.
Pool Construction on a Budget
Building a pool is a significant investment, but it doesn't have to break the bank. You can opt for an above-ground, fiberglass, or vinyl-lining pool instead of a traditional concrete collection, saving you money. You can also consider using a DIY pool kit or doing some work to reduce labor costs.
Fun and Games by the Pool
After a family pool, plan some fun pool games and activities to engage everyone. You can add pool floats or loungers or create a pool basketball station for the kids. Traditional games are fun for all ages.
Pool PH Maintenance
Maintaining your pool is essential, and you should check the pool's PH and chlorine levels and clean regularly, especially during the summer when it's in constant use. Seek organic solutions to lower the pH levels of your pool. These alternatives, derived from sustainable sources, can provide a safer and healthier environment for your collection while minimizing harsh chemicals.
Embrace the beauty of nature while maintaining the perfect pH balance for your aquatic oasis. It's also essential to store pool chemicals safely and keep them out of reach of children.
Outdoor Dining and Gathering Spaces
The final step in creating a family-friendly yard is to plan out an outdoor space for dining and gathering. All love backyard barbeques; setting up a patio or creating an outdoor dining space will give you a great place to entertain guests. Here's how:
Creating a Family-Friendly Patio
Your family-friendly patio could be as simple as installing a grill and a few chairs or as complex as building an outdoor kitchen with cooktops, sinks, and custom cabinetry. You can include a firepit, hammocks, and lounge chairs to create a cozy spot to relax and enjoy your outdoor space.
Cozy Outdoor Movie Nights
Create a cozy outdoor movie space for family night movies. Install a screen and projector or even repurpose a bedsheet as a projector screen; add some blankets, pillows, and popcorn, and you're ready for a family movie night under the stars.
Campfires and Stargazing
Kids love sitting around a campfire on a warm summer night and gazing at the stars. Building a fire pit offers a fun space for making s'mores, telling stories, and laughing with loved ones. You can also take a step further and add a telescope to watch the stars or invest in a night of stargazing binoculars.
Spending quality time with family is of utmost importance. A family-friendly yard provides the perfect setting to enjoy the great outdoors and create lasting memories together. Imagine a beautifully landscaped yard with a lush green lawn, vibrant flowers, and relaxing seating.