People are, of course, self-conscious about their thinning hair. This is not just normal in men but in women, too. While thick hair is quite a problem, anyone will rather have that predicament than have thinning hair. Thinning hair is related to medical conditions, genetics and hereditary, and lifestyles. But no matter the reason for your thinning hair, know that there's a way to combat them and to look like you still have full hair.
The trick is not to be afraid of trying out new hairstyles. There is nothing worse than sticking with one hairstyle for the rest of your life. That will only make you look old than you really are. Plus, it also does not give you a new look no matter how hard you try to do your makeup, wear nice clothes, and lose weight. Old hairstyle makes people look old. There's no getting around that.
Look at Regrowing Your Hair
Is it still possible to regrow your hair? There are many hair products that can add volume to your hair. You can look at the benefits of using moringa for hair regrowth. There are also shampoo, creams, lotions, and medications that can boost your hair's growth and protect your scalp. Remember that when it comes to your hair, a healthy scalp is equal to healthy hair. The healthier your scalp is, the more likely it is that your hair will grow fully. But if that is not an option, fret not because there are other things you can do such as changing your style.
Cut Your Hair
Bob cuts, pixie cuts, and lobs are the best hairstyles for people with thinning hair. Many think that having long hair makes it look fuller. That's wrong. Long hair tends to thin out at the bottom, so that adds to a thinner look for your hair. Since long tresses weigh down the hair, it will lose volume and fulness. Think about your long hair right now. Doesn't it look stringy? Cutting your hair to your chin will add volume. Make sure not to thin the bottom of your hair so that it will not lay flat on your head.
Don't Wear Bangs
Baldness in women begins at the crown. If you wear bangs, that means you're taking hair from an area where you need it the most. If you want to create a "veil" of softness around your face, you better do texture since that will give an illusion of bangs. Make sure that whatever hairstyle you commit to won't compromise the much-needed volume of your hair.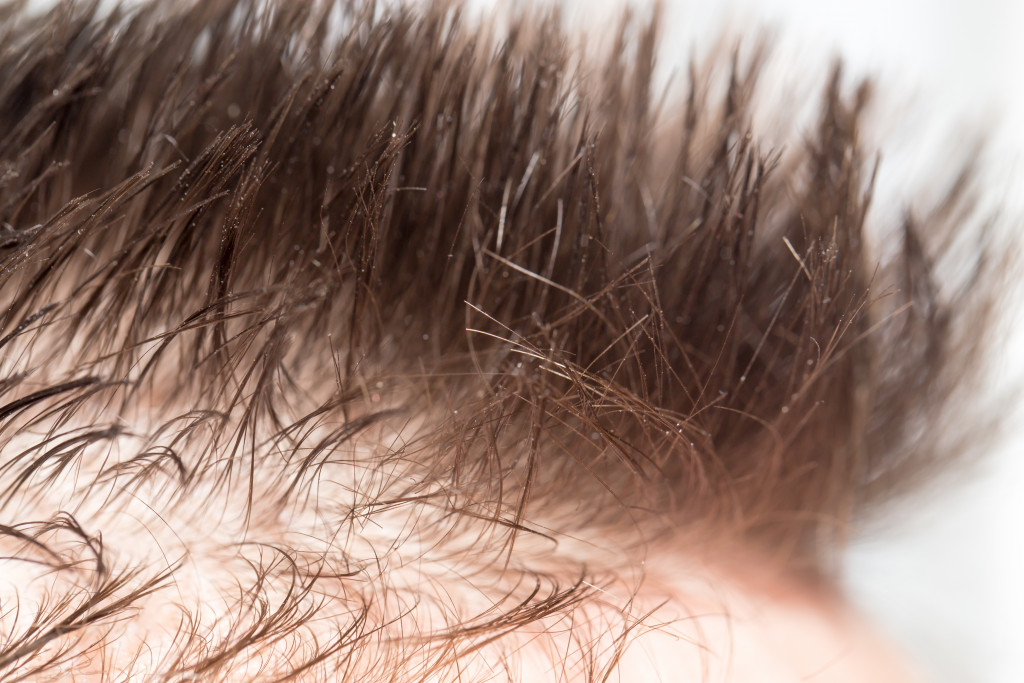 Color Your Roots Dark
Another way to create a perception of fuller hair is to color your roots with a dark shade of hair dye. The logic is the same when you darken your eyebrows. You want to make it appear fuller. Sure, it doesn't necessarily put the volume back on your hair, but it lessens the appearance of dense hair. Just be careful with your roots appearing flatter and smoother. That will magnify the thinning of your roots.
Choose a Blunt Cut
People with thin hair should not choose to razor the edge of their hair. Instead, they should choose a blunt cut because it makes for fuller hair. You might also want to shape the hair around your face. It might be an old style, but it's an effective one to add volume to your hair. How about an apple cut? That works, too, because it is designed to bulk up your hair. This style works best for people whose hair texture is baby fine.
Texture, and Not Layers
Be careful with the word "layers." Wrong layering can make your hair appear thinner. In fact, this is a strategy used by people with full and thick hair to thin their hair a bit. What you should be looking for is texture rather than layers. Providing texture should be done from the crown down to the edge of the hair. On the crown, the texture will give the hair a "lift" while on the edges, texture adds length and volume. Combine with your favorite hair product, and you should have no worries again about your hair looking thin.
There's always a way around thinning hair. You just have to give these hairstyles a try. Don't be afraid if, at first, they don't look that great. The trick here is to know exactly how to make these styles work for you since they're the best ones to add volume and the illusion of fulness to your hair. With the right hairstyle and hair care know-how, you should have that wonderful full head of hair you've always wanted.