The holidays are a great time to get together with friends and family, but if you're like most people, you also want to look your best. With all of the holiday parties, it can be tough to stand out from the crowd. But don't worry; we've got you covered. Here are some tips to help you stand out at your next holiday party.
1. Go for bold colors
Winter is a great time to experiment with bold colors. Jewel tones are always popular during the winter months. And don't be afraid to mix and match different colors. A bold red dress with green heels can be a show-stopping look.
Of course, you should also consider your venue when deciding on an outfit. Opt for classic black and white or dark neutrals if you are attending a more formal affair. Or stick with a single color to make a subtle statement. But feel free to play around and break the rules if you're attending a more laid-back event. You can never go wrong with a good pair of statement shoes.
2. Accessorize
Accessories can make a big difference in any outfit. And this is especially true during the holiday season. Add some spice to your look with a fun scarf or a hat. You can even go for something more daring and pick up a festive pair of tights or gloves. A statement clutch or bag can also help make your outfit stand out.
You can also add a dose of glamour with some sparkly jewelry. You can buy edgy necklaces to give your outfit an up-to-date and unique feel or opt for something more classic, like a pair of earrings. And don't forget to add a touch of glamour to your hair. Hairpins, clips, and headbands can all be great additions to your outfit for any festive occasion.
3. Experiment with makeup
The winter months are a great time to experiment with new looks. Try out some bold lip colors or shimmery eyeshadows. Add a little bit of sparkle to your look with some glitter and metallic shades. Or try out some new blush and highlight colors.
If you are going to an evening event, opt for a bolder look with dark eyeshadow and liner. And if your event is during the day, stick to more subtle shades and focus on defining your eyes. You want to look like your best self, but you also don't want to overdo it. Try to find a balance between your festive look and your everyday style.
4. Get festive with your nails
Give yourself a mini manicure by painting your nails in a festive color or pattern. Holiday-themed nail art is always a hit during the holidays. You can try out a classic red and green combo or opt for something more creative, like snowflakes or winter scenes. Many nail salons offer special holiday-themed designs, so take advantage of them!
You can also experiment with the shape and length of your nails. Pointed stiletto nails or almond-shaped ones can give you a more festive look as they catch the light. You can also go long or short, depending on how involved you want to get during the holiday preparations. You can never go wrong with a good manicure!
5. Play with textures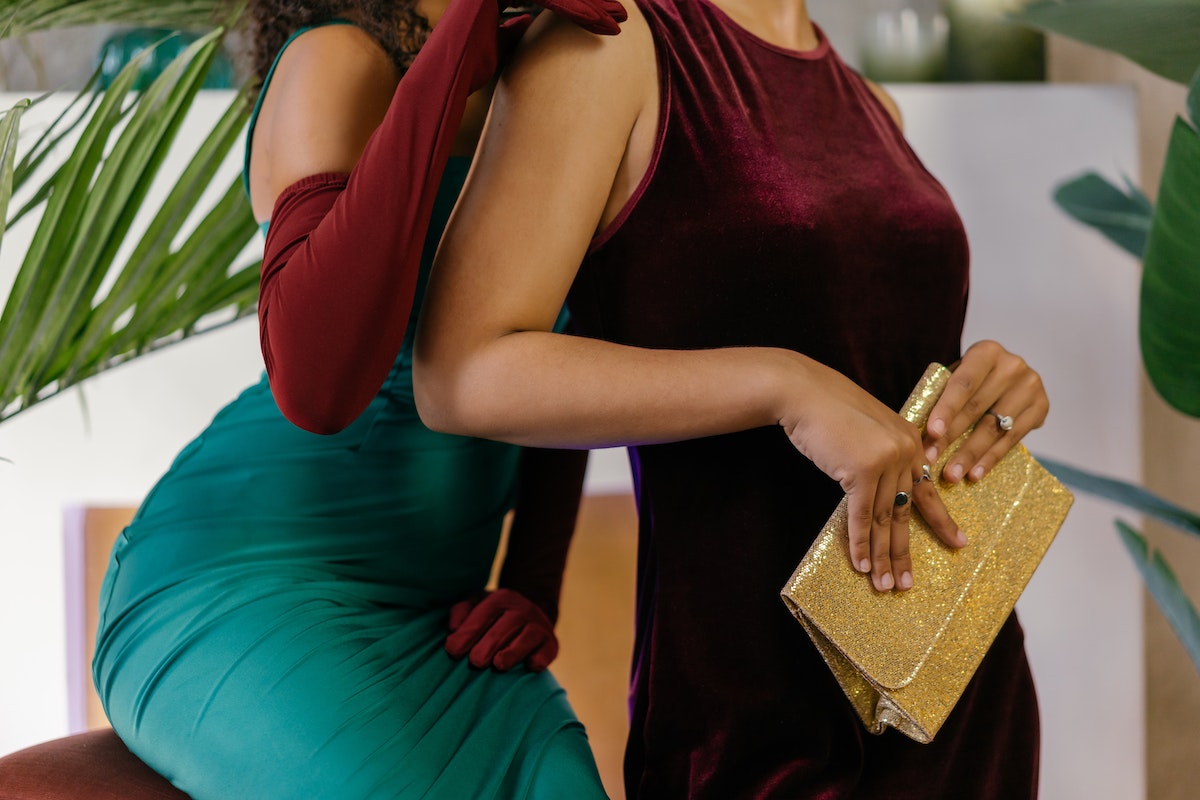 This is the time of year to experiment with different textures. Velvet, faux fur, and sequins are all popular fabrics for winter clothing. Think outside the box and try layering different textures together to create a unique look. You can also use textures to accentuate your outfit. For example, a faux fur vest can be just the thing to add a bit of flair to an otherwise plain dress.
Some textures look better when combined with others. A velvet dress or skirt looks great when paired with a fluffy faux fur jacket or a sparkly sequin blouse. And if you are attending an evening event, a metallic top can be just the thing to help you stand out. Don't be afraid to play around and see what works best for you.
6. Spread the holiday cheer
The holidays are a time for celebration and joy. So why not show your festive spirit with your actions? Bring a homemade treat to the office party. Give out small gifts or cards to your family and friends. Or start a conversation with someone new at the holiday party. A little kindness goes a long way at this time of year!
Many people find the holidays to be a stressful time of year. So don't forget to spread some positivity and good vibes around you. The right attitude can help to make any holiday event more enjoyable.
The winter holidays are all about looking festive, so don't be afraid to try something new and show off your unique style. With these tips, you're sure to turn heads and be the life of your next holiday party! So have fun and enjoy the season!