Thinking about renovating your bathroom? You're not alone; a bathroom renovation is one of the most popular home improvement projects. However, as with any home improvement project, some common pitfalls can trip you up if you're not careful. This blog post will discuss six of the most common mistakes people make when renovating their bathrooms and how to avoid them.
1. Not Planning for the Unexpected
One of the most common mistakes people make when renovating their bathroom is not planning for the unexpected. Even if you think you've thought of everything, there's always the possibility that something will come up that you didn't anticipate.
For example, you may find that your plumbing needs to be replaced or that mold in your walls needs to be remediated. To avoid being caught off guard by unexpected expenses, make sure to allocate a contingency fund in your budget for unforeseen costs.
2. Making Impulse Decisions
Another common mistake people make when renovating their bathroom is making impulse decisions. It can be tempting to go with your gut when you're making choices about things like tile or fixtures, but it's important to resist the urge to do so.
Once you've decided and committed to it, it can be very difficult (and expensive) to change your mind later on down the line. So, take your time in making decisions, and be sure to consult with experts (like our design team!) before finalizing anything.
3. Not Hiring a Professional
Trying to tackle a bathroom renovation on your own may seem like a good way to save some money, but it's usually not worth the headache. Not to mention, if you're not experienced in construction or plumbing, you could end up doing more harm than good.
Hiring a professional bathroom renovation company will provide you with the experienced bathroom fitters you need to get the job done right, saving you a lot of time and stress in the long run. No one wants to deal with a leaky faucet or a toilet that won't flush, so make sure you hire someone who knows what they're doing!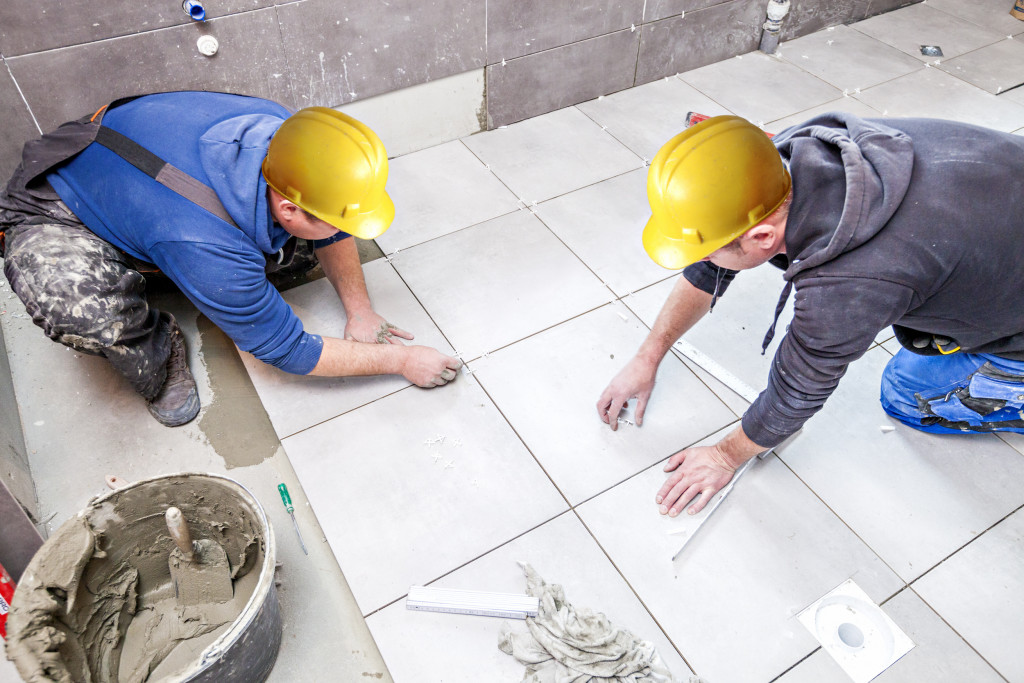 4. Not Doing Your Research
When you're planning a bathroom renovation, it's important to do your research before making any decisions. This means more than just looking at pictures in magazines; you need to understand the different materials available, the pros and cons of each, and what will work best for your space.
If you don't take the time to do your research, you could end up making choices that you'll regret later on. So, take your time, ask lots of questions, and gather as much information as possible before moving forward with your project. Also, be sure to ask your contractor for their professional opinion; they should be able to help guide you in making the best choices for your renovation.
5. Not Budgeting Properly
Budgeting is one of the most important aspects of any home renovation, yet it's also one of the most commonly overlooked. Far too often, people start a project without a clear understanding of how much it will cost, and they spend far more than they originally intended.
To avoid this, sit down and create a realistic budget for your bathroom renovation before you even start shopping for materials or making any decisions. Once you have a budget in place, you can start looking at different materials and make choices based on what's affordable for you.
6. Not Being Patient
Finally, one of the most common mistakes people make when renovating their bathroom is not being patient. Bathroom renovations can be time-consuming and messy, so it's important to be patient throughout the process. Mostly, this means being patient with yourself. You might not be able to do everything at once, and that's okay. Take your time, and focus on one task at a time until you're finished.
To make the process a little easier on yourself, try to keep your bathroom usable during the renovation as much as possible. This might mean setting up a temporary shower in another room or using your kitchen sink for brushing your teeth. Whatever you need to do to make the process bearable, do it!
Bathroom renovations can greatly add value to your home and make it more comfortable for you and your family to live in. However, as with any home improvement project, people make common mistakes, which can cost them time and money in the long run. By avoiding these mistakes, you can set yourself up for success when renovating your own bathroom! So, what are you waiting for? Start planning your dream bathroom today!