Caregivers are an invaluable part of society, providing emotional and practical support to those who need it most. In a world where many are suffering from mental and physical health concerns, a caregiver can make all the difference in helping individuals lead fulfilling lives. Caregivers play an essential role in providing companionship, helping with daily activities, managing medications, and other tasks that allow those they care for to remain independent and maintain quality of life.
It is estimated that over 2 billion people worldwide need long-term care or assistance due to physical or mental limitations. With an aging population, this number is expected to increase significantly over the next two decades. While family members typically provide much of the informal care for these individuals, professional caregivers often play a critical role in easing the burdens placed on family members and allowing them to focus on providing emotional support for their loved ones.
At present, there are an estimated 17 million paid caregivers working around the world – many of whom are devoted to helping others despite considerable risks associated with their work. If you want to be one, here are a few steps.
Seek Certification
Becoming certified as a professional caregiver is essential to becoming a successful, reliable care provider. Certification proves to employers and clients that caregivers have the knowledge and skills to provide safe, high-quality care. It also demonstrates that caregivers understand their responsibilities when working with vulnerable populations and are dedicated to providing the best care for those in need.
Certification helps ensure that caregivers are up-to-date on best practices and safety protocols, so they can better meet the needs of their clients. It also assures that they know how to respond appropriately to challenging situations and identify potential risks or abuse. In addition, the certification confirms that caregivers possess the necessary communication and interpersonal skills to work with different types of people effectively.
Here are a few ways you can get certified:
Receive Care Training
Care training is an essential part of becoming a successful caregiver. Professional care providers must understand the needs of those they care for, anticipate potential risks, and know how to respond appropriately when providing care. Care certificate programs are available to help professionals learn about providing quality care for those in need. The courses cover medication management, personal hygiene, nutrition, and safety protocols.
Take a First Aid and CPR Course
Safety is of primary importance when caring for others. As a caregiver, you must be adequately trained to respond during an emergency. Taking a first aid and cardiopulmonary resuscitation (CPR) course will give you the skills necessary to provide essential life support in case of an accident or medical emergency. In addition, first aid and CPR certification demonstrate to potential employers and clients that you are knowledgeable in emergencies and can provide critical care if needed.
Take Official Government Training
Care providers must take official government training in some countries to become certified. These courses provide an overview of the different types of caregiving roles and responsibilities and a comprehensive understanding of health and safety issues surrounding elderly or disabled individuals. They also help caregivers understand how to work with families and other professionals to ensure that clients receive appropriate levels of care.
Internship at a Care Facility
Completing an internship at a care facility is a great way to gain hands-on experience. Internships provide an opportunity to learn from experienced professionals while providing direct care for clients. They also offer insight into caregivers' day-to-day challenges and will help you become familiar with the industry and develop the necessary skills.
Join a Healthcare Facility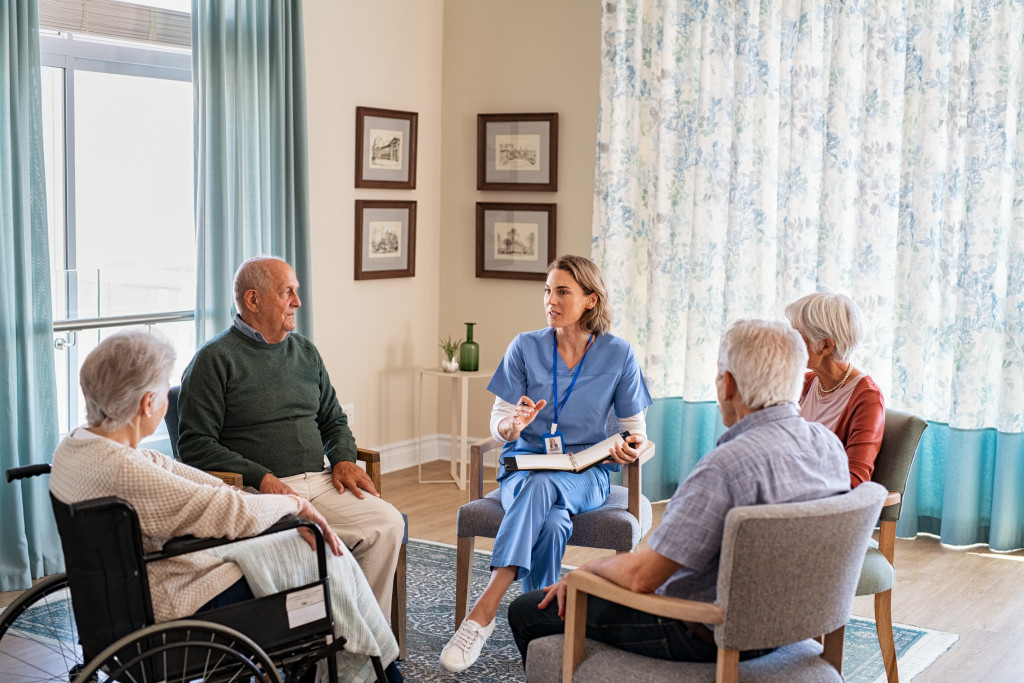 Once you have certification, you can look for work in a healthcare setting. Hospitals, nursing homes, and other long-term care facilities employ caregivers to provide personal services such as bathing, dressing, medication administration, and general companionship. Healthcare facilities also offer various opportunities for advancement within the field.
You can start with a small job like a home health aide and eventually progress to more advanced roles. Working in a healthcare setting is also an excellent way to build your experience and skills to pursue other future opportunities.
By following these steps, you will be well on your way toward becoming a certified caregiver. It may take some time and effort, but with dedication and perseverance, you can attain your goals and make a meaningful impact on the lives of those who need it most. Good luck!
Stay Up-to-Date with Industry Trends
Finally, it is essential to stay up-to-date with industry trends. Caregiving is an ever-evolving field, and new technologies and best practices are constantly emerging. Keeping abreast of new developments will help you provide the most effective care for your clients and remain competitive in the job market. Many online resources available to caregivers can help them stay informed about the latest industry news, training opportunities, and career paths.
Final Thoughts
By following these steps, you can become a successful professional caregiver who provides quality care to those who need it most. With dedication, knowledge, and experience, you can make a real difference in people's lives—all while having meaningful work that brings purpose and fulfillment to your own life.