Whether you are hosting a party or you just want a fancy Friday night snack, a cheeseboard is one of the easiest appetisers to prepare. You can prep it up ahead of time, or you can set everything up a few minutes before your guests arrive.
But just because it is manageable does not mean that the quality will have to suffer. The quality of your cheeseboard heavily depends on the type of products you use and the combinations of tasty items on the platter. If this is a whole new territory for you, here are some quick tips that will help you make things much more doable and efficient.
Know your cheese
The star of your cheeseboard is the cheese, so spend some time picking the right types. You can combine cheeses of different sources (cow, goat, or sheep), textures, colours, and flavours. But if you want to be on the safe side, use the usual choices, such as cheddar, feta, gouda, and mozzarella. If you wish to have some semi-hard cheeses, Manchego and Emmental may make the right choice. A pro tip: always ask the supermarket's cheesemonger for recommendations. They usually give options that are heavily based on your preference.
Pepper the board with some salty foods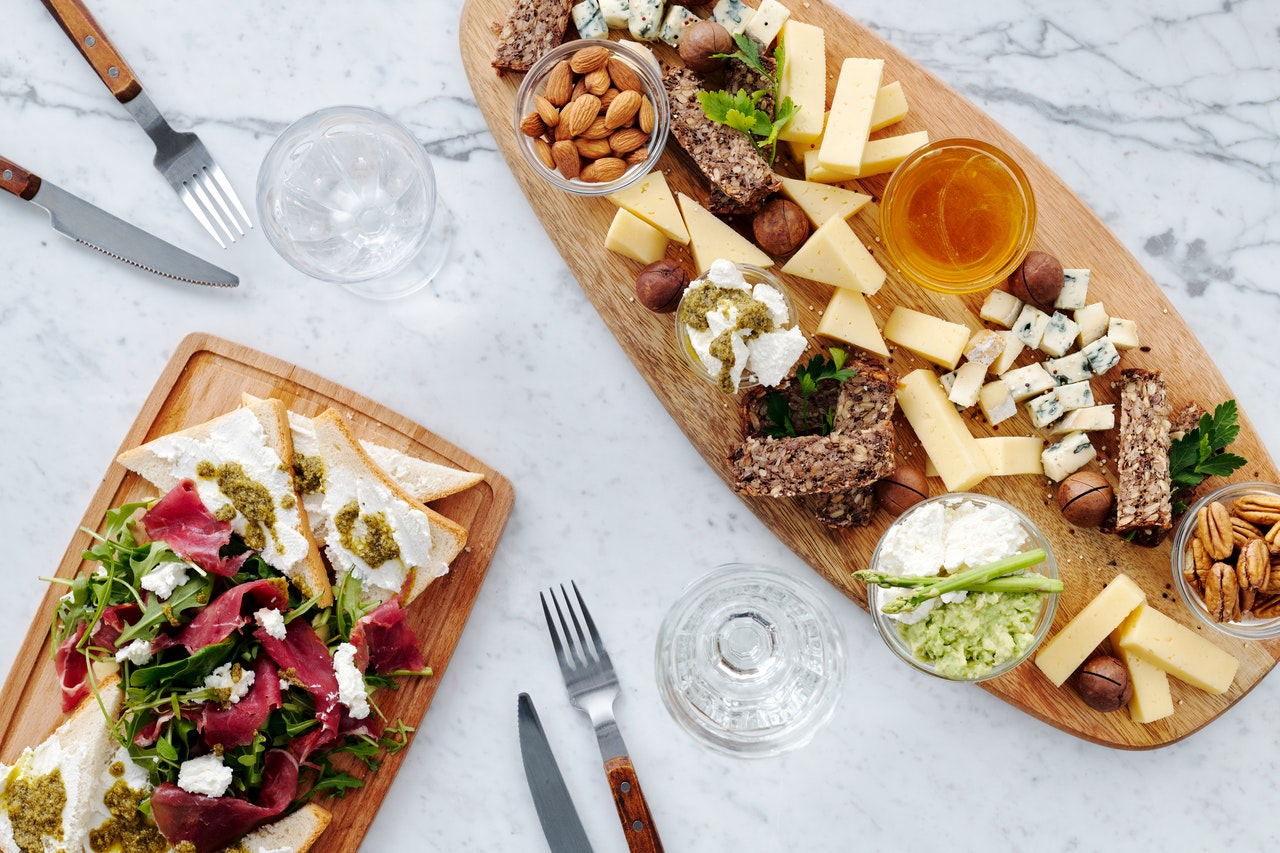 To add colours and flavours to your cheeseboard, you may use additional salty fares. Those include meats, such as prosciutto, Jamon iberico, salami, or ham. Just be careful not to overwhelm the board with them, or it will become a charcuterie. Olives are also welcome additions. For more textures, nuts, like almonds, candied walnuts, and pecans are great options.
Counterbalance with sweets and neutrals
Some sweet and neutral items are necessary to counterbalance the saltines. In this regard, fresh fruits, such as grapes, may make a great choice. Dried apricots, dates, and cranberries are also lovely. Don't forget a small bowl of honey. For the neutral sides, you have to include some soda crackers and bread. These items may even serve as palate cleansers.
Finish with wine
A fancy fare will not be complete without wine. But make sure that your wine will perfectly complement the tangy flavours that you are about the enjoy. Wines with velvety, clear, and crisp taste will undoubtedly serve as a refreshing beverage. If you have received a champagne gift set, by all means, serve it for everyone's pleasure.
To make your cheeseboard pleasing to the eyes, pick the right board – it could be wood, marble, or slate. For variety, display some cheeses as a whole and cut some in different sizes and shapes, such as spears, wedges, cubes, and thin slices. To make sure that your cheeseboard will look fresh and taste right, remove the cheeses from the fridge about half an hour before serving.
A simple dinner party for the weekend or a solo kitchen adventure on Friday night becomes much fancier and more elegant with a cheeseboard. While it looks beautiful, it is deceptively easy to make. You can even have fun making one by inviting your friends.