Posts Tagged 'Clouds'
Eek!!!
This post was featured by Power of Paint!!
Celebrate with me! 😉
I need to get pictures for after Levi's momma got the curtains, crib goodies, etc…
But here's a preliminary room reveal!  Cuteness!!!
Adore the "pop" of color this red light gives!  It was actually our light from our breakfast nook area when we bought the place.  It was outdated… and brass… and did I mention outdated?  We hit that sucker with several coats of gloss red spray paint and TAAA-DAA!  Instant lighting awesomeness!
Levi's daddy both owns his own Aerial Spraying Business (crop dusting) AND his own Excavating/Dirt Work Business.  (Yes, he's a busy man!  And also my boss, btw!  I do bookwork/data entry for Ragnar and Angela. They're pretty awesome friends AND bosses. lol!)  Anyhoo… These are toys that belonged to Ragnar (I think? lol!) growing up so they just had to find a place amongst the nursery even if it WAS a plane room!
This bomber airplane is awesome.  It just is.
We hung it from the ceiling with fishing line, so it looks like it's just gliding in the corner of the room.
Angela got THIS bit of awesomeness.  Is it not perfect?  It's technically made to be a shelf, but we thought it looked WAY cooler hung at an angle without anything on it.  It actually looks kinda like an airplane bursting halfway through the wall.  

Too bad we already established that I'm not an artist…
Otherwise we totally coulda emphasized that it was ripping through the wall…
Ahh well… The room is still awesome….
More pics to follow of the rest of the details!
Totally love how this room turned out!
GREAT ideas and inspiration, Angela!
Check out the tutorials on how to paint clouds even if you have no artistic talent and how to paint nice crisp lines quickly and easily!
So…. I'm not an artist.
Not by a long shot…
A very VERY long shot….
I mean we're talking best sniper in the military LOOOOOOOONG shot.
Yes, I love to paint flat surfaces… But I like to paint them all one color.  Maybe two or three with the help of tape for lines.
I don't do artist-y things.  Ever.
Creative? Yes, perhaps.
Artist-y? No.
So when my friend (the-overly-confident-in-my-artsy-abilities-Angela) said she would love clouds on the upper walls and ceiling… I freaked out.  Inwardly.
I'm sure that my confident bluffing as I said, "Sure!  Why not!  Let's try it! WHAT'S THE WORST THAT CAN HAPPEN??!" totally fooled her! 😉
So I did what any normal person in this situation would do.
I looked it up on YouTube and Pinterest.  (My heroes!)
These are some of the inspiration photos I looked at on Pinterest:
This one came with a wee bit of a tutorial… I didn't really follow it, but they were a good basis for when I ended up just "winging it." Haha!
Yes… These clouds are totally better than mine.  I'll totally admit it.
The key is just going for it!!!!!  Even if you don't know what you're doing and you're not an artist!  What's the worst that happens??!!  You merely re-paint over it and try again?!?!?  That's not so bad!!!
Then I just looked at pictures of lots of real clouds.  Google Images is magic! 🙂
Then… SINK or SWIM…
I went for it!!!
I hand mixed several colors with the white, blue, and gray I used for the walls.
4 colors are what I ended up with.
White
Lighter Blue (Mixed about 1/2 and 1/2 of the white and the blue)
Lighter Gray  (Mixed about 1/2 and 1/2 of the white and the gray)
and
Blu-ish Gray (Mixed about 1/3 white, 1/3 blue and 1/3 gray)
Then I used those cheap sea sponges.
Yes… I totally forgot to get a picture.  Shame on me.
They are pretty standard though… They're in the paint department at pretty much any home improvement store…
Craft Store…
Wal-Mart… 😉 lol!
And I grabbed a paper plate.
And just started at it!
First I did the main shape of the cloud in white…
Then I did the gray shadows…
Then I started blending along those gray shadows with the Blu-ish/Gray…
Added some of the blue here and there for depth…
(Okay real-artists… You should leave now.  I'm probably driving you completely out of your miiiiimd! Haha!)
And then finished blending it with white again.



TAAA-DAAA!
Okay… Just to Re-interate…
I am NOT an artist!
BUT I tried it!
And it doesn't look half bad!
And Levi (The little man munchkin that lives in this room now) apparently can't stop looking at the clouds on the ceiling!  So at the end of the day, I'll consider that  a smashing success!
So TRY it!  Just TRY it!!!
What's the worst that could happen?!??!?!
Check out the nursery reveal I updated and the tutorial on how I managed to paint these super crisp lines quickly and easily!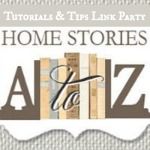 Read more at http://diyshowoff.com/2013/03/10/that-diy-party-7/#PjOvW5xCMv663lhd.99