Yes… We got a skiff of snow last night and Spring doesn't feel very close at all.
The groundhog lied.
And I'm pretty sure the robins are regretting their decision to come back so soon.
lol!
Regardless….  I'm in the mood to post something SPRING-Y!
This was a SUPER easy project that you could totally do while curled up on the warm couch watching a movie.
This makes me think of outdoor parties… and having friends over… and grilling… and well…
SPRING!!! lol!
All you need are cheap glass pitchers… (I got these at Wal-Mart)
Copper wire… Or any finish wire, I suppose? (I used stripped electrical wire, actually. Cause that's just what I had lying around if I remember right.  Craft wire from a hobby store would work too as long as it doesn't rust?)
Beads of choice…
And a pliers/wire cutters/jewelry tools/etc… Use whatever your weapon of choice is.  😉
As you can see close up…. I just wrapped the wire round and round the handle adding curlies here and there along with the occasional beads.  Super easy!
I even made some napkin rings while I was at it.
The only downside?  Ummm…. In this picture, it looks like pee.
Sorry about that.
I didn't have lemonade on hand so I just used yellow food coloring.
Yeah…  Not really convincing.
😉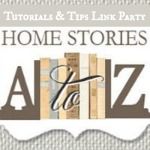 Linky Party going down at: Today's Creative Blog.net!!!