Okay…. So…
You know the drill… When you want to paint a crisp line, you…
1. Paint first color….
2. Tape the line…
3. Paint over the line with a light coat of the first color to seal any bubbles…
4. After that dries, paint the 2nd color…
5. Remove tape!
Waaahhh-laaahhh!  Perfect line!
But what do you do if you have a room that is already been previously painted and you want to paint a crisp line but don't have any of the original paint to seal the tape with?
If that's the case for you, you're in the right spot!
This was a nursery I helped a friend out with this last summer…
(Before I had nursery on my brain! Haha!)
This is what it looked like before.  We were doing an airplane room, so the green had to go, but we liked that brown stripe!
This is how it all went down:
1. Tape the line.  After it's been taped, press along the tape like crazy!  Rub it… You can even use an old credit card or something.  Whatever the case, just put a little effort into getting as many of those bubbles out as is humanly possible!
2. "Paint" a light coat of Modge-Podge along the entire line that you will be painting.  No need to "goop" it on.  You just want enough to seal any remaining bubbles. Obviously I would suggest using the matte Modge-Podge if you're painting with a flat paint and the high gloss Modge-Podge if your painting with a higher gloss paint.  Not that you'll ever really see it, you just want the sheen to be as close as possible.
3. Once the Modge-Podge dries, (it doesn't take very long!) paint your remaining coat.  (We did sky blue above and grey below.  It's kinda awesome!)
4. When the paint is semi-dry, pull the tape….   Then you merely need to OOOH! and AHHH! over the nice crisp line you have going on.  And show it off to everyone who visits.  Go ahead.  They'll be impressed! 😉
Will be doing a complete nursery "reveal" soon so you can ogle all the plane adorable-ness. 🙂
Also, check out the tutorial on how to paint clouds even if you have no artistic talent! 🙂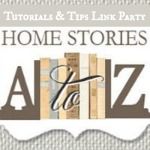 Read more at http://diyshowoff.com/2013/03/10/that-diy-party-7/#PjOvW5xCMv663lhd.99