The DIY I'm going to concentrate on in this post is the numbered top on this awesome bench!
Why?
Even though I did build the bench myself out of pallets…
Even though I do love it a lot…
And even though I am proud of the end result…
The step-by-step process of building it is appalling.  LOL!
I don't think I measured much of anything…
I totally eyeballed as much as I could…
Few screws here…. Few screws there….  Eh!  Looks good!!!  🙂
Oh!  And I built this before I was blogging.  And didn't take pictures!  That's a good excuse!   Just forget I said anything!!!
I can't blog step-by-step DIY on building the pallet bench because I neglected to take pictures!!! Haha!!  That totally sounds better, right?!?!
Really though…. It was SUPER easy to build.  It took 2 pallets, some 1×4's that I had on hand for the base underneath, and some random 2x's I had in the basement for the top.  Suuuuuuper easy and FREE for me since I had everything on hand!  Yippee!
After I painted 1 coat primer, and 2 coats of a semi-gloss latex paint, it looked really pretty good!  But I had something even better in mind!
I was inspired by this piece from Sisters of the Wild West.  And they were inspired by a Pottery Barn wall piece.  Dont'cha love how inspiration works?!?!?
 I simply printed a document of the numbers 1-9 in like 5 different fonts in various sizes.  Typically one number per page.  This is simply going to be a matter of preference.  Then I spent the next couple hours watching "Psych" and cutting out numbers.  Yeah.  It was awesome.  😉
After they were all cut out, I randomly arranged and re-arranged the numbers in various directions all over the top till it was completely covered.  Absolutely no method to the madness, just in case you're wondering!!! 😉
I taped them down and then put various weights around the edges of the numbers to get a crisper line.  I wasn't too worried about getting a super crisp line since I would be distressing it a bit.   If you were really particular about it, you could do this in vinyl too I suppose?
Next step: Have a Handsome Man spray paint the top for you.  I mean, you could do it yourself, but as for me…. I let him spray paint whenever possible!  It's one of his secret talents! 😉
Again…. I wasn't too worried about getting a super crisp line since I would be distressing the top later.
Hello happy numbers!  🙂
This is right after the numbers were painted.
 It was at this point, Handsome Man calmly stated, "it looks like something from a horror movie."
"It looks like WHAT?!?!?"  I said.
"You know… it looks like something from that movie…. Oh what's it called?  It's about a guy who deciphers codes and stuff?"
"A Beautiful Mind???"
"Yeah.  That's it."
Because "horror movie" is exactly the genre I put "A Beautiful Mind" in.
Granted I wasn't a big fan of the whole story line…  Can't say it was my best use of 2 hours.
Man deciphers codes for the government until the end when you find out he's not deciphering anything for the government after all.  He's just schizophrenic.
Anyway!  I decided that maybe if there wasn't quite so much contrast between the gray numbers and the white top, it wouldn't look so "HORROR MOVIE-ISH!"
So out came the glaze.  I just used whatever I had on hand.  It was a clear glaze that you use sponge painting walls, etc. mixed with some gray paint.
Easy-peasy.
Brush it on. Wipe it off.
LOVING the finished product and Handsome Man doesn't even seem to mind the numbers now!!  (Not that he'll admit, anyway! lol!)
Need to get big baskets, etc. to style the bottom…  But I love the space down there!!
*happy sigh*
Not bad for FREE, eh?!?!
Creating with the Stars: Week 3 Link-up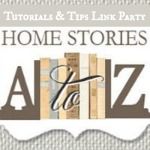 Power of Paint Linky Party at Domestically Speaking